I started to do more research (…) there is always an interrelation between sound effects and experienced events; people describe sounds as eggs cracking or watermelons smashing.

Lawrence Abu Hamdan, Earwitness Inventory (detail) (2018). Commissioned and produced by Chisenhale Gallery, London in partnership with: Witte de With Center for Contemporary Art, Rotterdam; Contemporary Art Museum St. Louis; and Institute of Modern Art, Brisbane. Courtesy of the artist. Photo: Andy Keate.
'Books may be a loaded gun', but as Ray Bradbury also suggests, 'maybe the books can get us half out of the cave'. Artists and their books (1)
Houda Terjuman
Hybrid migration | Syria, Morocco
A floating bridge invites us to build connections and empathy towards the unknown. Will it eternally float ?

Image: Unwritten Melody, Casa Arabe | Laura M Lombardia , Madrid, 2017
This workshop looks at 2 artist/researcher projects developed by Arts Cabinet on the topic of migration and explores processes of creating, disseminating and undoing narratives in the interplay between cultural heritage, migration and constructions of place.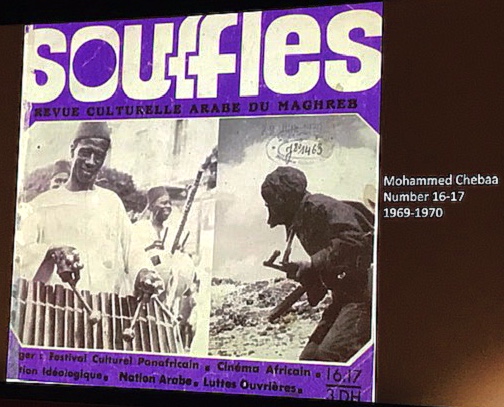 Utopian as all this might sound, Tate's conference was not all about hazy reminiscence and vague hagiography (…), a central concern became the merits or otherwise of large conferences as representing state/institutional voices vis-a vis grassroots organisations, non-institutional voices.
Haythem Zakaria
The Atlas Mountains, Maghreb
Potential Archeologies is a research project inscribed in Haythem Zakaria's practice, which reflects specifically on the multiple possibilities of looking at the Atlas Mountains through landscape and mythology.
We never recycle logic. One of the things that we do in organizing is re-present the research in the form of action.

Dr Annabelle Boissier interviewed MTL in New-York, May 2017

Setareh Fatehi and Shahrzad Irannejad (Iran) perform ideas, bodies and movement at major migration conference in the UK.

Movement and Migration in the Middle East
Islamic and Middle Eastern Studies
University of Edinburgh, July 2017

Orly Orbach
Migration | Island of Lesbos
The artist-researcher Orly Orbach investigates stories of migration, time and memory, in a snap research visit to Lesbos and following on, in conversation and exchange in London (2018-19).
Only through close interactions between civic societies can genuine cultural exchange can take place.

Image: The Diplomatic Academy of the Ministry of Foreign Affairs of the Russian Federation, Courtesy Erik Vlaeminck

Alma Salem
Tourab, Syria Art in Brussels
Svetlana Sequeira Costa interviews Arts Cabinet Advisor Alma Salem, as she opens Tourab in Brussels, an exhibition sponsored by Goethe Institut and designed to provoke, challenge and give voice to unheard and vulnerable individuals in Syria and the world.
Brussels, April 2018

Politics always come first. We are not able to just start to look at art practices and simply see how they produce imaginary settings in which people are creating political and other possibilities. Once more, it's the agency of art that is underestimated.

Dr Annabelle Boissier interviews Art Anthropologist and Historian Kirsten Scheid, 2017

Dr Annabelle Boissier explores how artists that try and achieve to escape or fit in their original locality is as important as understanding how they represent it in the art pieces themselves.
Art certainly does play a part in knowledge production: we understand a lot about our being in the world and our cultural histories through art.

Dr Laurie Benson interviews Lola Frost about the relationship between her own artistic practice and research.
The anthropologist Bernard Muller accounts how he explored the uniqueness of an original practice, which goes beyond traditional research frameworks.

Interview by Dr Annabelle Boissier, 2017